Living May under Our Lady's Mantle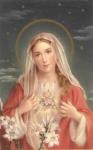 Mother Church provides so much richness for the domestic church to feast on. Living liturgically is a banquet, but lately I feel like we've been going through the drive-thru. Through prayer I have been reflecting lately on the great need for gentility in the home. A gentleness in voice. A gentleness in lessons. A gentleness in movement. There is so much harshness around us – a loss of innocence, noise, distractions, temptations. My home must be a haven of quiet, simplicity, order, loveliness, generosity. There is no better month to re-focus the domestic church than the month of May because there is no better teacher of gentility, loveliness, simplicity, and tenderness than our Blessed Mother.
I want to take time this month in spite of a very busy schedule to allow for focusing on the great gift God gave to us in His Mother. Here are my plans:
The children will choose their favorite artwork of the Blessed Virgin to display.
We will spend an afternoon on a Mary hunt through the house collecting every statue we have of Mother Mary and bringing all of them to the Feast Table. Throughout the month we will study about Our Lady of Guadalupe, Our Lady of Grace, Our Lady of Fatima and other apparitions of Our Lady. Each child will take a statue of the Blessed Virgin from the Feast Table to their room to watch over them.
Collect fresh wildflowers daily and set out on the Feast Table at Mary's feet. Each child will have their own vase.
The Regina Caeli throughout Easter, and the Angelus after Easter – daily at noon.
Mary's basket of reading:

Visions of Our Lady – out of print (so sad because this is a wonderful book!)
Crowning of the Blessed Virgin as the Queen of our home and our hearts.
Seven Sorrows of Mary project – (CHC's A Year With God p. 200) to be displayed when finished on the Feast Table.
A walk with Mary – Sweet Pea and I to take a walk together to discuss Mary's example for us in modesty, charity, patience, suffering, obedience, femininity.
Marian hymns accompanied by Sweet Pea on the piano:

Immaculate Mary Your Praises We Sing
Sing of Mary
Oh Most Holy One
Be Joyful Mary
Hail Holy Queen
Hail Queen of Heaven the Ocean Star
Ave Maria
Salve Regina
Magnificat
Nature Walk – Hunt for Mary's flowers. Collect flowers and press onto a collage page to be displayed on the Feast Table. Resource: Mary's Flowers – Gardens, Legends and Meditations

Roses
Violet
Columbine
Thistle
Clematis
Rosemary
Juniper
Forget-Me-Not
Strawberry
Lavender
Marigold
Lily of the Valley

"Virgin Mother of God, let me be all yours!
Yours in life, yours in death, yours in affliction, fear and misery.
Yours on the Cross and in bitter grief, yours for time and eternity.
Virgin Mother of my God, let me be all yours! Amen."

Pope John Paul II