It's Thursday, and I wanted to show you all my little baking zone, but it's gloomy here, and pictures just don't look as nice. Maybe next week. Instead I think I'll show the schoolroom update. We're going Montessori. We're going….not there yet though! Peanut needs some activities accessible to him – Sparkly really needs some motor skill development. I love Montessori – been reading about the Catechesis of the Good Shepherd. Wow! That is such a beautiful program. I can't wait to start it in the fall. Anyway, I am still reading – I have two of Maria Montessori's books, and some of Elizabeth Hainstock's books, and Sofia Cavaletti. Big names. I went to the library today to check out some more. I don't think we'll end up being a strict Montessori only house, but I do think she has a beautiful philosophy for educating children. I have really just started reading, but it seems to me that Maria Montessori and Charlotte Mason were certainly kindred spirits – desiring beautiful, living things to be present to the child. Well, here's our start anyway.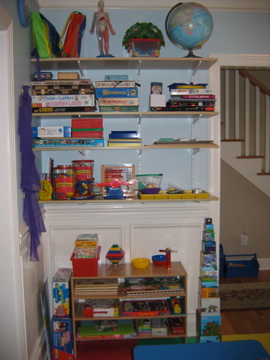 We just got one of those closet organizers (2 of them actually) and built them – well Sweet Pea and Sparkly did – and stacked them. They're so great for holding puzzles and things. Found them at Walmart for $10.00 each, so the price was right. Eventually I hope to add some more sorting/pouring/latching type activities. I'll get one more stackable shelf to add to the unit here to hold those activities. And I have had a hard time finding an affordable mat/rug for the kids to keep their activities on. I thought maybe the small table would work for Peanut, and the other two could work on their own, but it was clear very quickly that the mats would be necessary to set up zones. Guess Montessori had something there! I shouldn't be surprised! The upper shelves contain Math manipulatives and puzzles and games for the older kids. I did cull some things – so that I'd be able to rotate new puzzles and games in and out.
The kids are sorting Cuisenaire rods. I know we're breaking Montessori rules here, but as I said, I'm not strict Montessori. We will adapt to fit our family and home needs. Everyone was so excited to see their things set out that they couldn't wait to get their hands on them. I think it all looked new!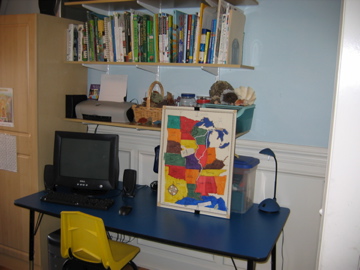 In order to set up one wall of the schoolroom with Montessori manipulatives, I had to move the computer. It's now on the opposite side of the room under the nature shelf. I had to find a suitable container for our "rock" collection (which by the way contains half of the rocks that used to be in Nanny and Papa's driveway) in order to condense our growing nature shelf collection. Sparkly brought home 3 large magnolia leaves today though from our field trip at Constitution Village The kids were acting as delegates to Alabama's Constitutional Convention which took place in 1819. I should have made that its own post, but sadly, I forgot the camera. I know! I know! I kick myself! Anyway, with the addition of the magnolia leaves, we may have trouble…again…fitting things. Oh well.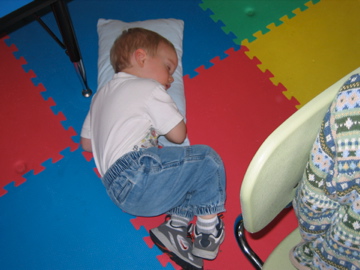 And here is the last corner of my home. A perfectly peaceful Peanut! Sweet Pea had been working away on her schoolwork, Sparkly and I were working together, and I looked up and there he was. He had been walking around with his pillow for a few minutes. I was about to finish up with Sparkly, and had planned to put Peanut down for a nap, but he beat me to it. Reminds me a little of Papa, he can sleep anywhere.