The Simple Woman's Daybook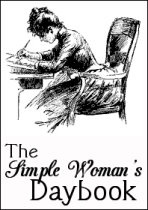 Visit Peggy at The Simple Woman for more entries…
FOR TODAY, Monday, August 11, 2008…
Outside My Window…It's dark. I miss blogging in the morning. But, I miss blogging more, and I really miss my daybook entries. They help me think through the day. Can you tell we have started school here? I've needed to step away from the computer a bit more and transition us back into a routine of learning.
I am thinking…what a mess the house is. Today was a day out of the home. It started with Mass, had a doctors appointment in the middle, and ended with errands. Brutal. Have you ever noticed that it takes a day to recover from being out of the house for a day? Why is that? Aside from the water bottles, books from the van, trash, dirty diapers and random stuff that needs to find a home in the house now…why does it take so long to settle everyone back into a routine of quiet productivity? Why does it take so long to settle ME into a routine of quiet productivity? Mental note…must ponder that tomorrow over coffee…
I am thankful for…my generous husband that rocks his baby girl to sleep every night. Precious little minutes for just the two of them.
From the kitchen…ugh! Do you really want to know? Empty bread box. Kitchen table covered with *stuff* from today's trip out. But, a full pantry! 🙂 And menus in place! 🙂 Tomorrow morning I'll be busily tidying and baking bread!!!
I am wearing…dirty clothes. sigh.
I am creating…a divet in the couch. Bliss.
I am going…to get to my ironing this week. Really, Rob – I am!
I am reading…not enough, and I feel the worse for it. I think I'll set as a goal to focus my week, keep up with the daily stuff, set a cheerful rhythm and plan my reading times.
I am hoping…to set up the August Feast Table tomorrow – I'm so behind! It's the 11th. The children have been asking since last week. I have no excuses – I just need to do it before Our Lady's Assumption on the 15th.
I am hearing…the Olympics on tv. We love watching the Olympics around here – the whole family really gets into it.
Around the house…I'm thinking of re-arranging the living room. Do you ever do this? Get tired and wonder, "is this really the best way to arrange the furniture in this room?" Trouble is, it always requires the help of my husband, and I feel so guilty if he moves the heavy cabinet and couch and rug and I step back and tilt my head and say, "hmmmm….think I liked it better the other way. Can we move it back now?" I really think it's just a variation of a cardio exercise program for him, right? And, don't you think the couch would look better over there rather than here? I knew you'd agree. 🙂 Let you know if we move stuff around.
One of my favorite things…lemon ice slushies on hot days.
A Few Plans For The Rest Of The Week: Laundry. Set out and press our Marian banner for our Assumption procession. Finish teaching Peanut the words to "Immaculate Mother" and convince him that it's "Ave Regina" not "Holly Regina" – or not. Bless the herb garden with holy water on the 15th. Rearrange the living room. Clean out the garage (entirely) in order to spray for spiders! Spray for spiders! More laundry.