The Simple Woman's Daybook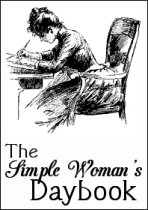 I think this is such a wonderful way to visit and share. I've wanted to do this for several weeks, but I've never had the time to sit and add the links and set up the template for starting. This morning, I made my commitment.
Visit Peggy at The Simple Woman to join in the fun and visit with all the other simple women through the links there.
For today…Monday, June 9, 2008
Outside My Window…I'm looking at the front gardens freshly weeded. I hate weeding. I hate the heat. I hate the humidity. I love being able to see the Mary pond again though, and the garden looks much happier now. All of the roses have been pruned, and the mexican heather is in full bloom. We had fun listening to the hummingbirds fuss at us as we worked this morning.
I am thinking…I really need to work on the menu for this week. I'm rather un-inspired though. All I want to eat are cold, crisp salads with iced tea.
I am thankful for…the help of my children this morning. I needed their help (did I mention I get cranky in the heat and humidity?) In pruning back my sad, diseased honeysuckle we talked about how God prunes our souls when we are diseased and sad. We talked about how it hurts, but how our souls are in need of a loving gardener to step in and cut back the dead and withering parts of us that may attract bugs so that new, healthy shoots may spring up. An inspired moment…I hope the honeysuckle comes back – it was a severe-all-the-way-to-the-ground pruning.
From the kitchen…I'm tidying my bake center today. It could really benefit from a little wipe down and re-stocking. Then, I need to copy my recipe for our new favorite loaf of bread so that Sweet Pea can make another loaf.
I am wearing…a full denim skirt with a sunny, yellow unbuttoned shirt over a white t-shirt and my favorite Dansko Mary Janes.
I am creating…a larger burn pile for my husband with all of the weeds from this morning. 🙂
I am going…to finish up my home tidying this week. I finished the learning room last week and the supply closet in the learning room this weekend. Just a few more things to tidy up there…then…I'm headed upstairs to deal with the mess I made up there. I dread that, but it must be done! It feels good to have a more thoughtfully put together learning room to do my planning in. It makes me happy to look in there and see my desk all cleaned off, waiting for a cup of tea and my planners to be set out in anticipation of a fresh year of learning together. But…I must tend to the mess upstairs first. I must. I must.
I am reading…Education Is An Atmosphere, a Discipline, a Life. I'm behind. I'm praying for lots of quiet nursing time today so I can read more.
I am hoping…my new cloth diapers come in soon – I'm tired of washing my only 6 so often.
I am hearing…the air conditioner turn on. Blissful, delicious, humidity-free conditioned air. I'm so pampered.
Around the house…more weeds are growing in other flower beds. More weeding tomorrow morning. Ugh!
One of my favorite things…crisp, white tablecloths.
A Few Plans For The Rest Of The Week: Make a menu plan and shop it, tidy bake center, start and finish tidying upstairs (where all of the unwanted, unneeded stuff landed,) and…weed those dreaded gardens.
Here is picture thought I am sharing…