A Simple Touch to Spruce up your Autumn – Lilla Rose Hair Clips
It's fall!  Officially!!  Pumpkin spice latte', corduroy and crisp breezes!  Delish!  And that also means it's time for that seasonal clothes switcheroo…you know when you go through all the closets and freshen things up a bit!  It's fun to add a couple of pretty autumn pieces to spruce things up a bit!  Might I suggest something very simple?
My girls and I have been wanting to try the Lilla Rose hair clips for some time now.  The little girls need good, sturdy hair clips, Sarah likes fashionable options, and I like something that will look pretty and hold securely.  And the Lilla Rose hair clips meet all our needs!  We tried a small variety of sizes from my friend, Christine, who is an independent Lilla Rose Consultant, and we couldn't be more pleased!  We've been wearing these clips almost every day since they arrived.  Here is what we all love about these hair clips:
They're very pretty!  We love the different finishes and bead choices – you can go conservative and traditional, or a little more colorful and fun!  Lots of choices!
Works in all hair types – Katie's hair is long, curly and very slippery; Sarah's hair is wavy and very fine; and my hair is layered to the shoulders, super thick and wavy/frizzy.  The Lilla Rose hair clips work for all of us!
There are a variety of different sizes to choose from – we love the size choices.  I'll show you more on this below.
These clips are so comfortable to wear and as long as you get the right size, they don't slip at all!  You definitely need to view the sizing video and great information on the sizing and styling page.
No pulling or pain on removal!  You know what I mean, right?  You put your daughter's hair up for the day, and at the end of the day you have to remove the elastic, or the clip, or the whatever…and you remove a few strands of hair along with it.  Ouch.  (This is a huge problem for those of you with lots of naturally curly hair – that stuff acts like velcro sometimes!)  Not a problem with the Lilla Rose clips, and this was one of the first thing my daughter mentioned to me!  It doesn't hurt to take them out.  It's a simple mechanism and you just push it in place to secure it, and pull the little stem out to take the clip out.  No pain!
---
Mini Clip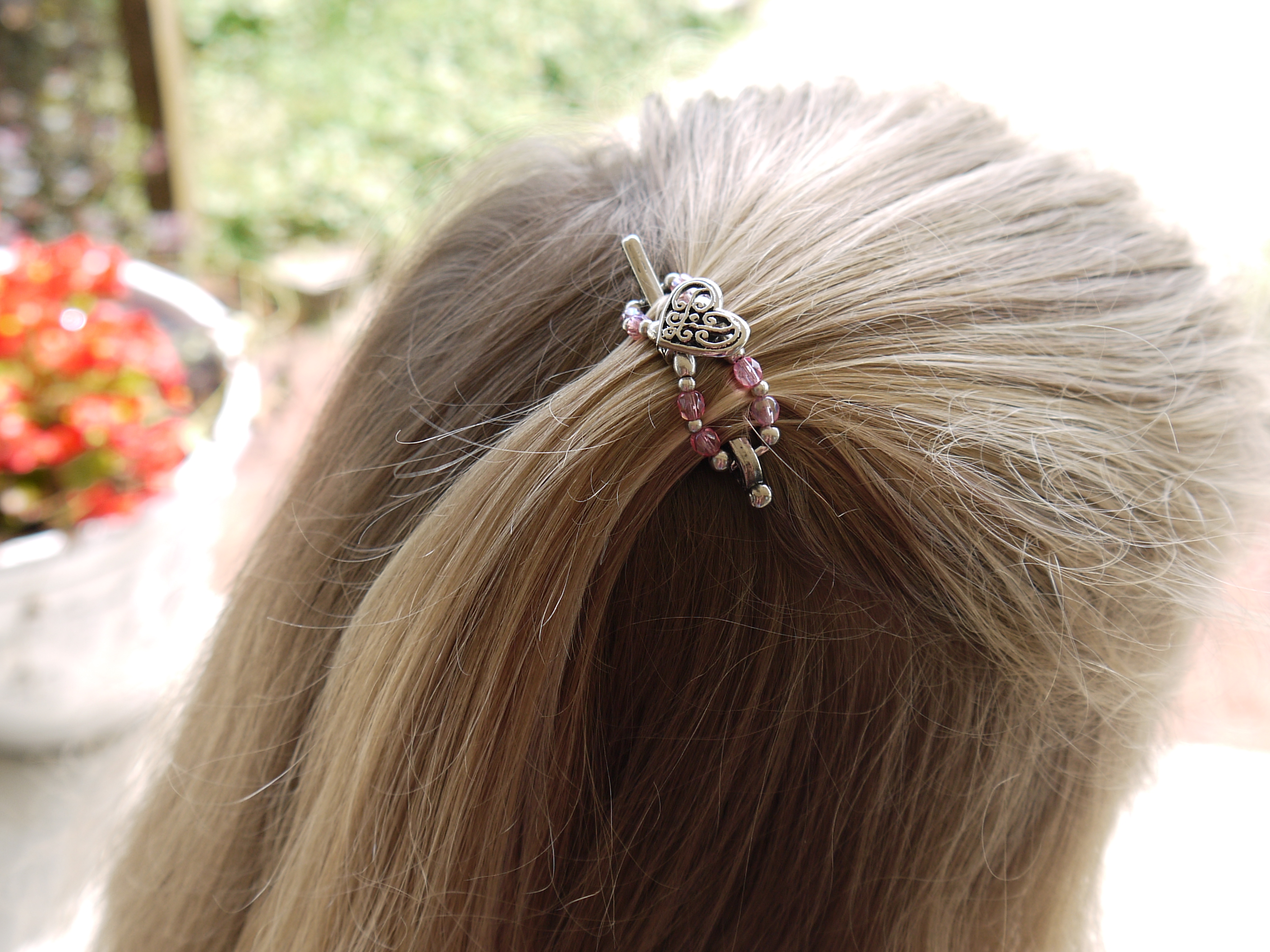 SIZE:  mini
STYLE:  scrollwork heart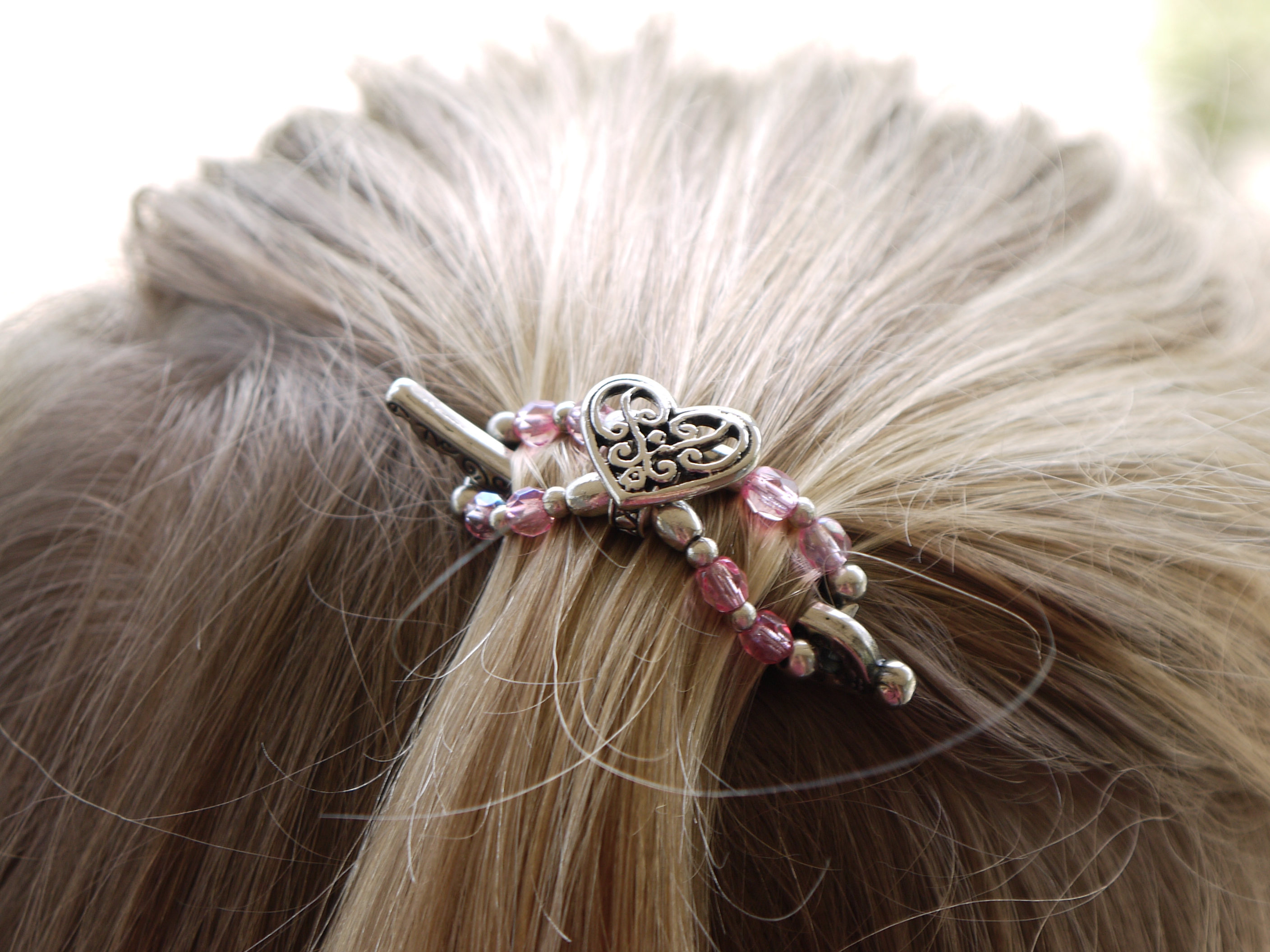 I love the mini size and it's probably the size I find the most versatile in my hair just because I have shoulder length, layered hair, but I also really like using it as you see it pictured above in my daughter's hair, too.  I can grab bangs or a small bit of hair that is usually up front by the face, and slip it into the mini clip.  It's a great active look if you've got shorter or shoulder length hair and you just want to do something fun with a clip and get some hair out of your face for the day.  Below are all of our mini clips, and I love them all!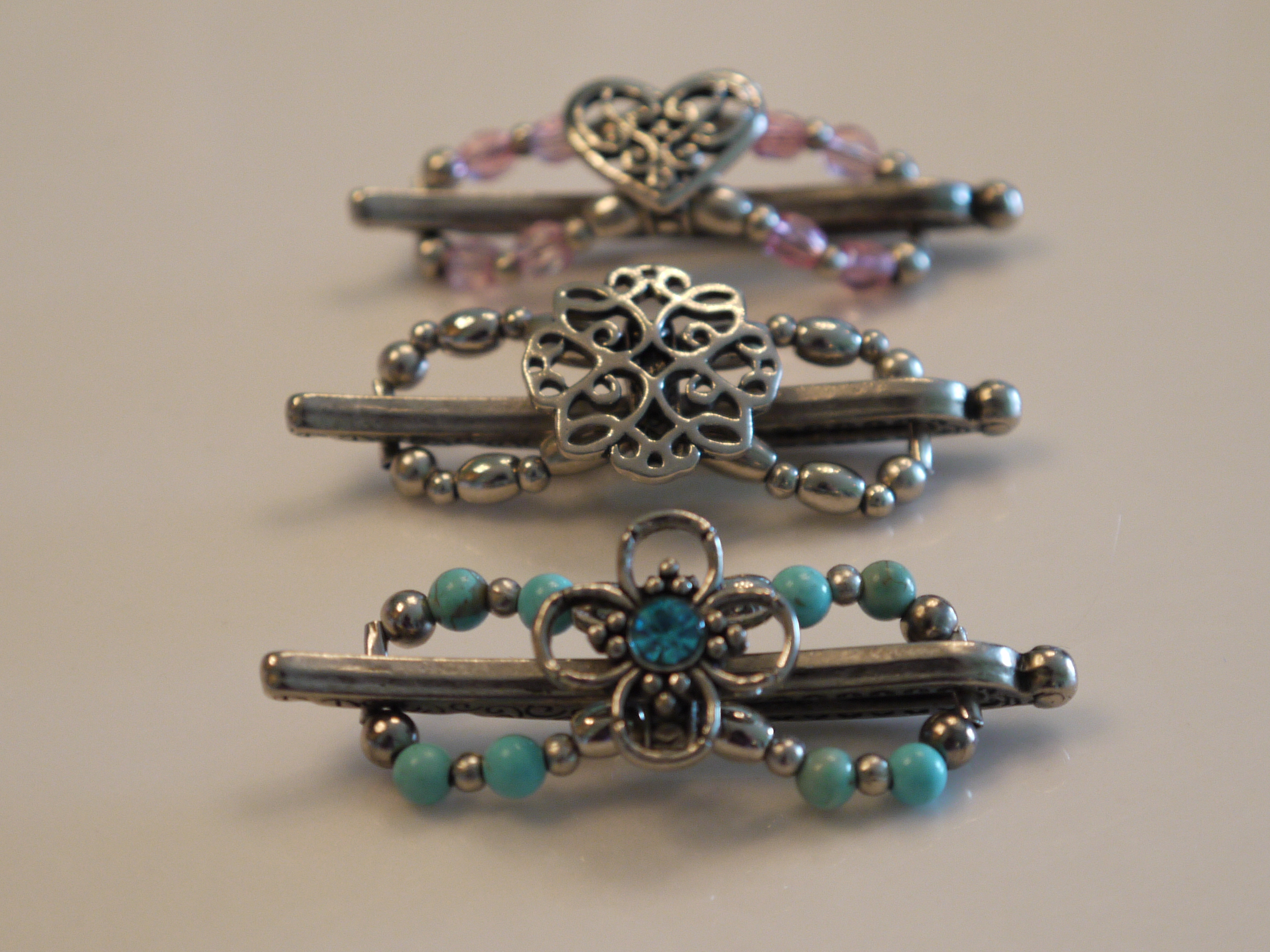 STYLES from top to bottom:
---
Extra small clip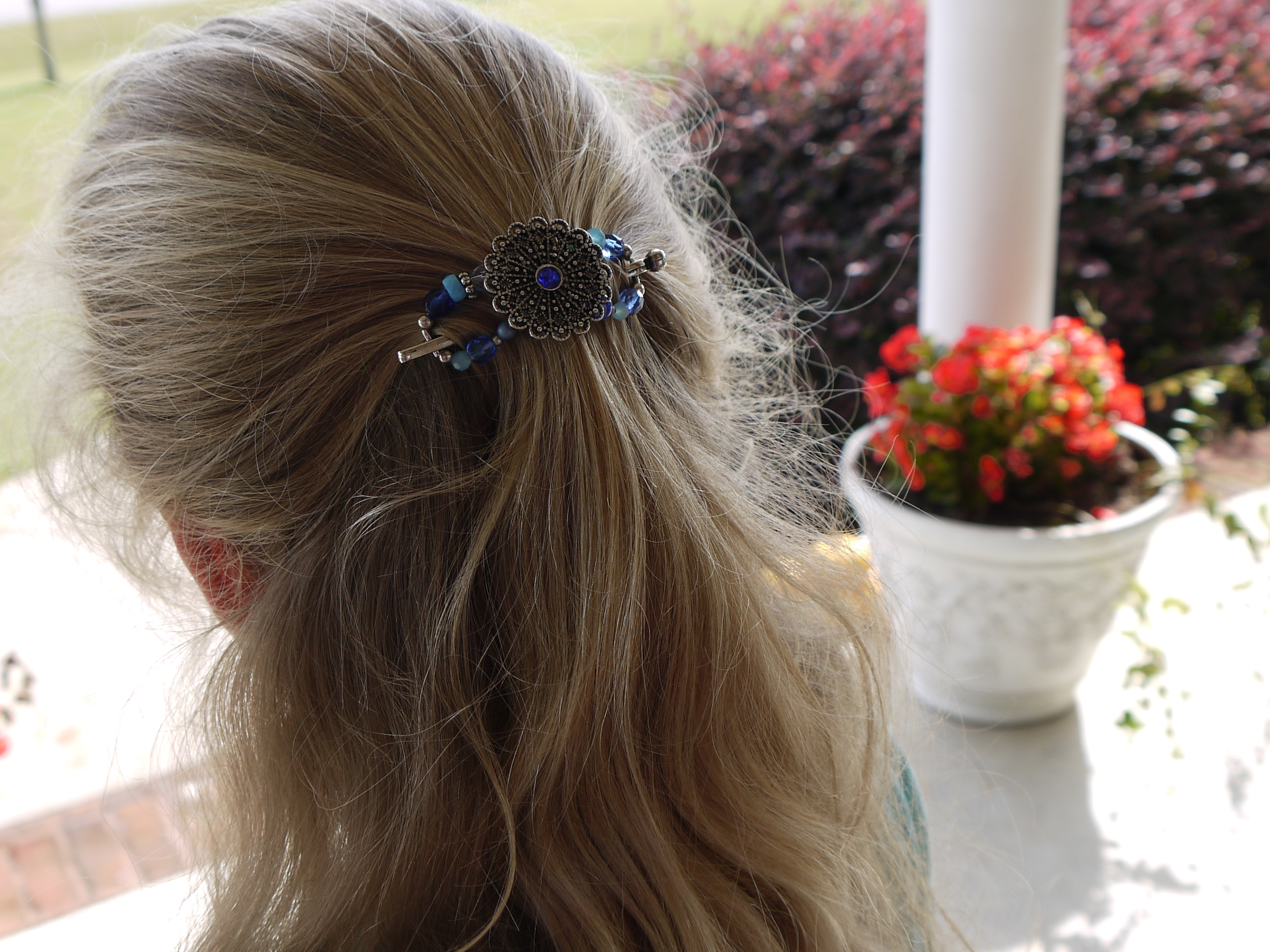 SIZE:  extra small
STYLE:  hues of blues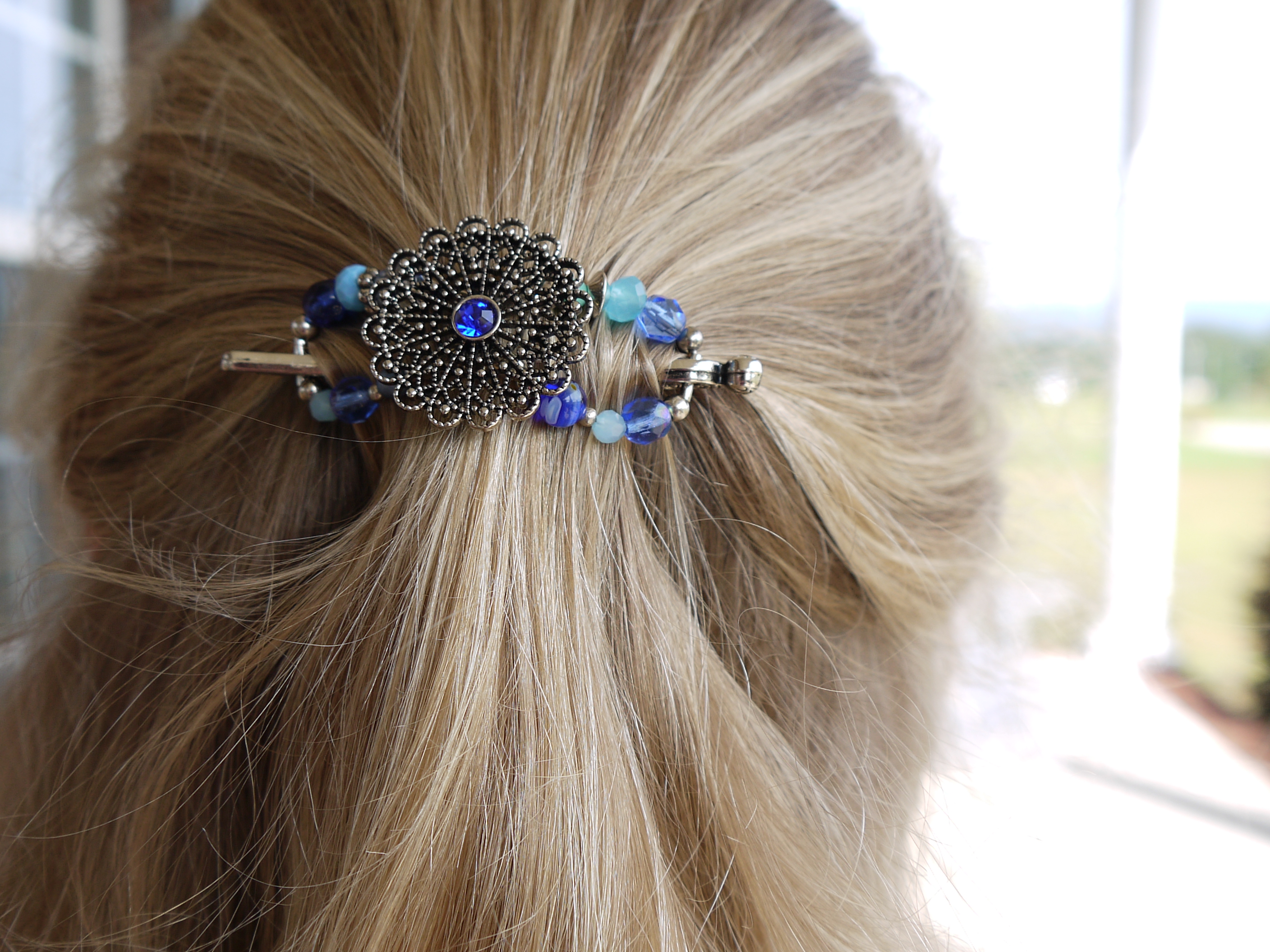 This size actually works great for pulling a fair amount of hair back – this is half of Katie's hair.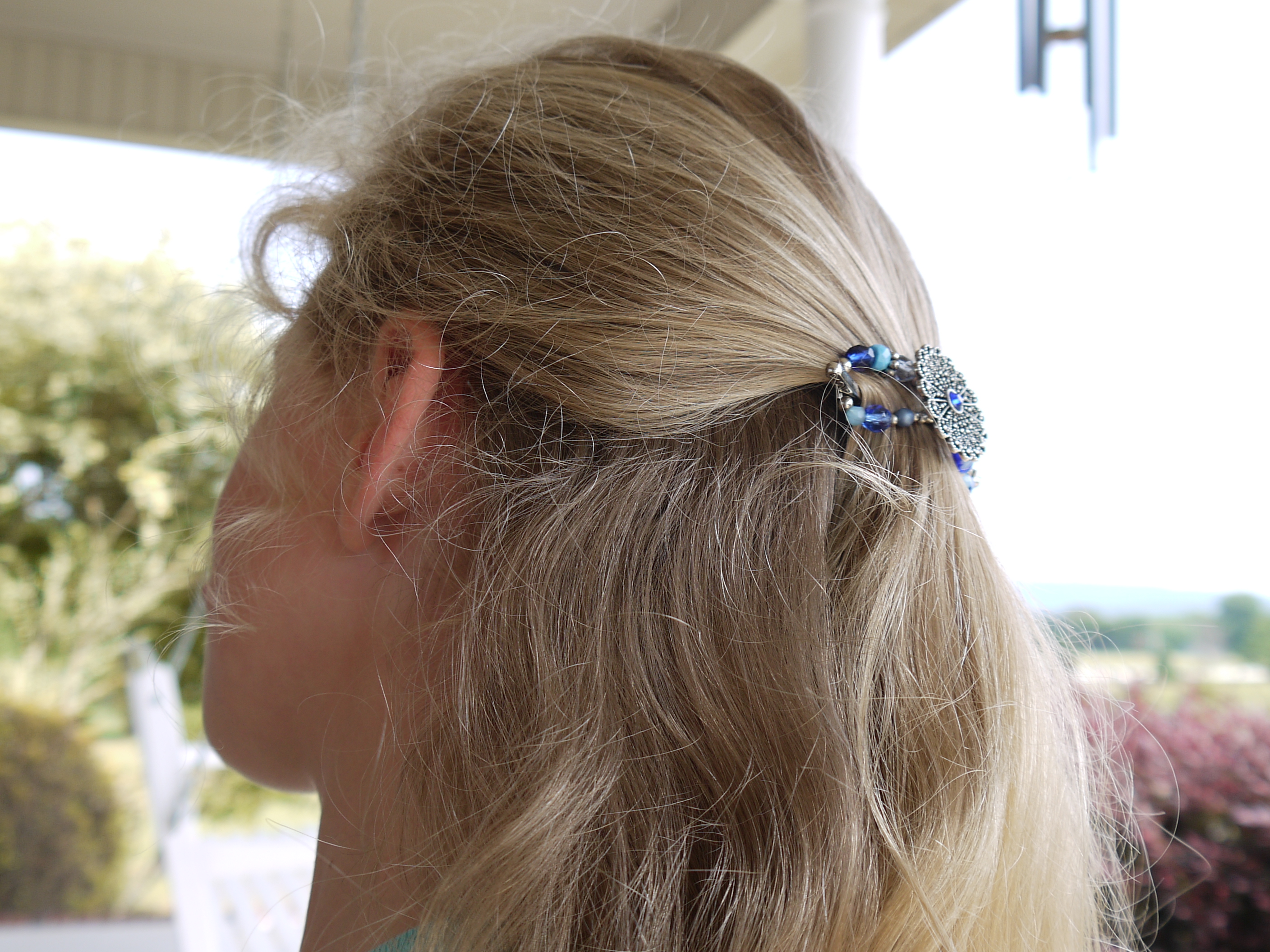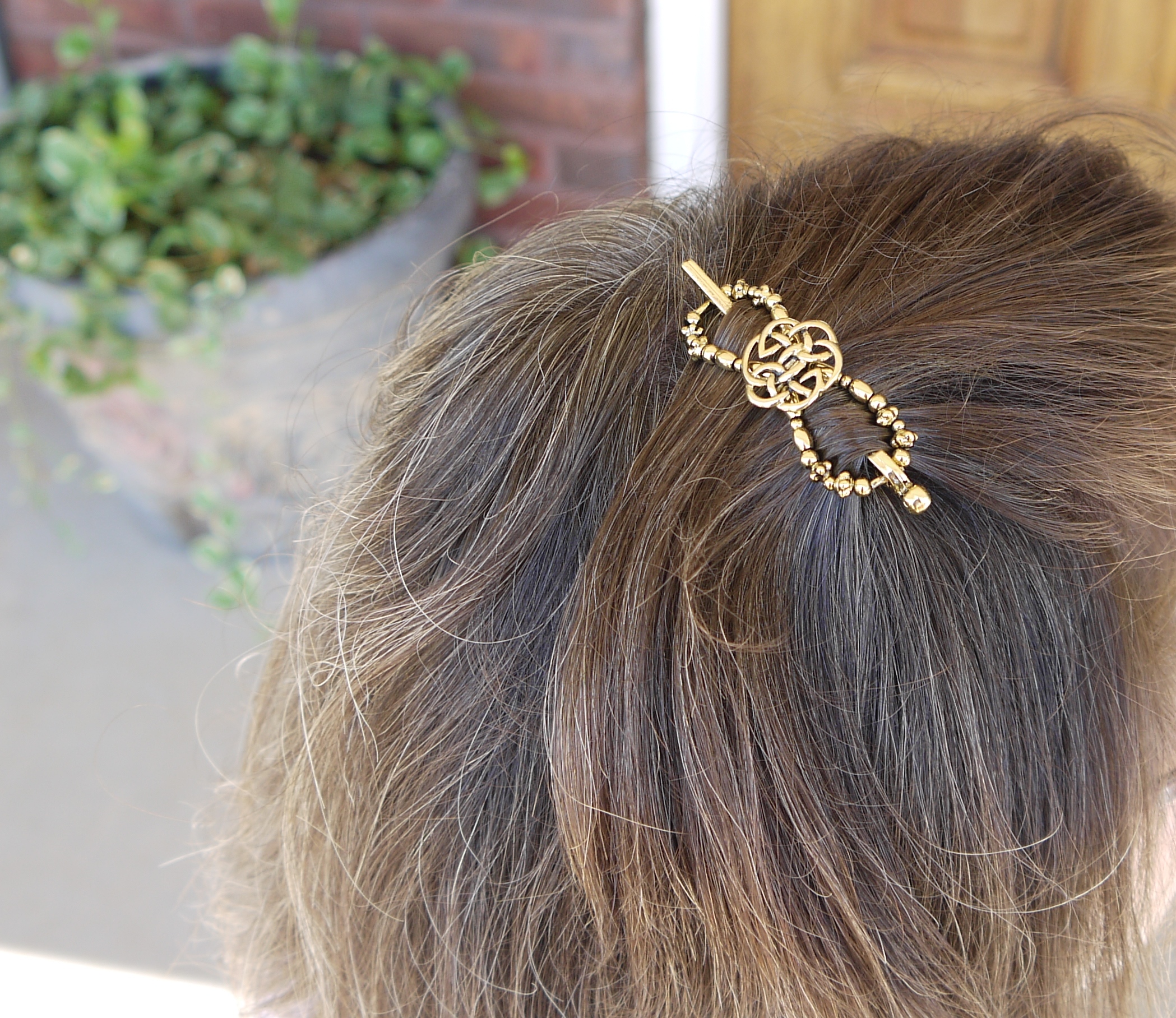 SIZE:  extra small
STYLE:  celtic knot gold
The above picture is me (along with the picture at the very top of this post).  See how on a busy day I just sweep a handful of my thick bangs back in one of these clips!  It's a great way to use these if you don't have longer hair!  An extra small stays in my hair because I have thick, wavy hair.  For most, an extra small would work well to pull back the entire top half of your hair (see the pics of Katie just above me with the hues of blues clip – we're wearing the same size clip but her hair is fine and slippery…while mine is coarse and wavy.) A mini is actually my preferred size for this "look" but if I'm pulling a little more hair out of the way, I use and extra small.  Both work really well for me.
---
Small Clip
STYLE:  fleur-de-lis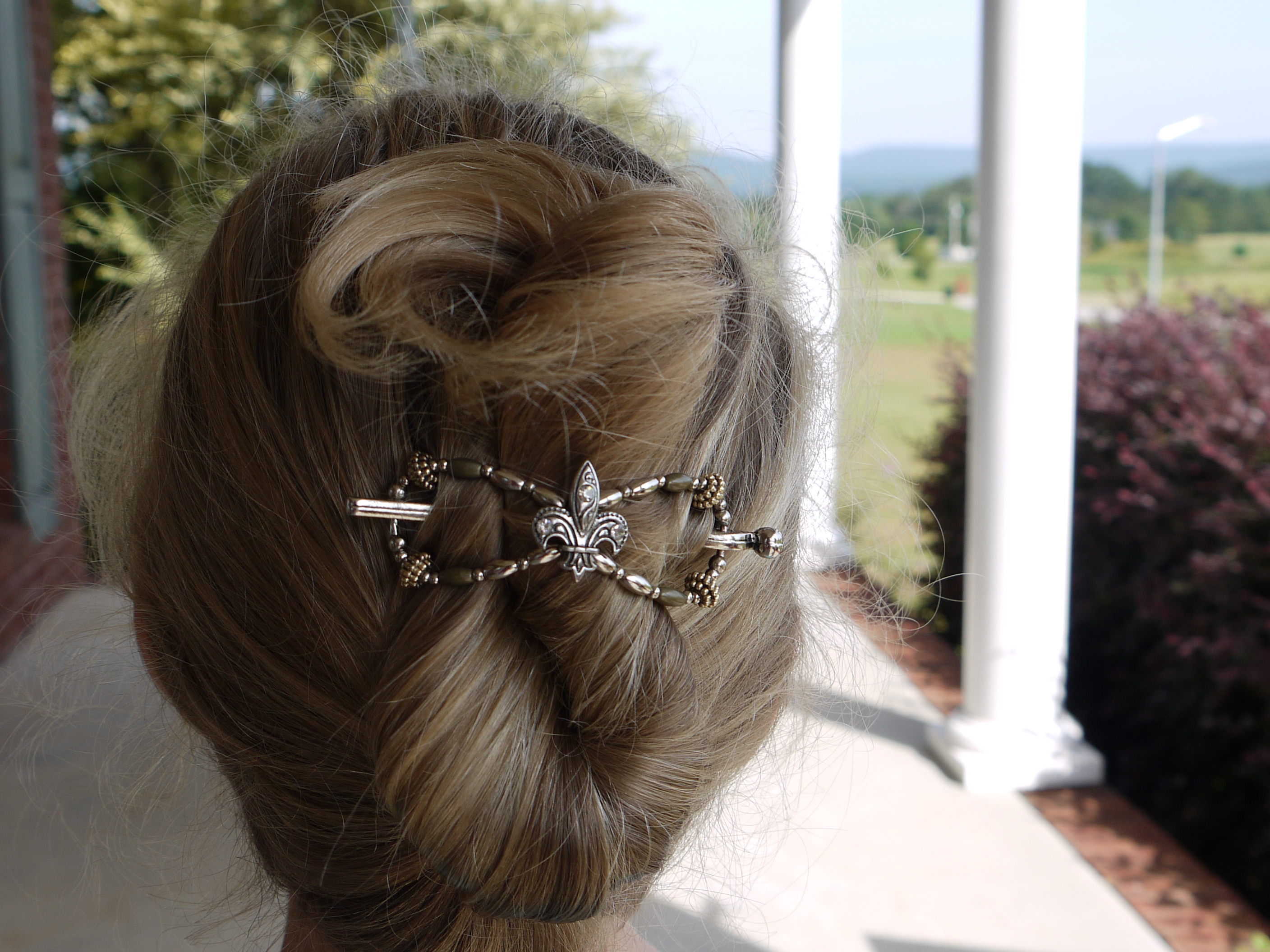 Sarah can do some much prettier up-do looks with hair…but alas she wasn't around when I took these photos (otherwise, I would have made her model AND style!)  Anyway, this is a standard twist up – I know I can do more with this size clip and longer hair, I just haven't yet.  Still, it's great for a very pretty twisted up and out of the way look!  You can find lots of up-do ideas around the web!
There are larger sizes than I've pictured here – medium, large, and extra large.  You can secure any size or style hair, including buns for ballet girls!  And the bobby pins and hair bands are adorable!
---
A Lilla Rose Party for YOU!
Christine graciously set up a "party" link for me to share with you!  And what's great is you're all invited, and you don't have to go anywhere for this party! Just grab your pumpkin latte', sit down, and spend some time going through all the different Lilla Rose hair clips!  Maybe you'll find some fall inspiration there?  I know I've really enjoyed looking around again and thinking about some of those fall colors!!
If you'd like to place an order, please order through ——–  THIS LINK.  🙂
Christine is very generous; she offers a special for first time purchasers:

If you are a new Lilla Rose customer, when you buy 3 or more, you are eligible to get 1 free. * Please do not add the free item to your cart.  After you place your order, simply email Christine at prettynwrose at gmail dot com and let her know what you would like for your free item (up to $16 value). This offer is only good through the review link.
                          *The "buy 3 or more, get 1 free" offer is only available to customers in the USA.
Don't forget to review the sizing video and information on the sizing and styling page to make good decisions about sizing.
Christine said she would be available in the comments section below if you have any questions…so ask away!
This autumn party is open until Friday, October 3!  So, feel free to look around, and shop until then!
These would make great St. Nicholas gifts, stocking stuffers, or Christmas gifts!
Happy fall shopping!