Five Last Minute Christmas Gift Ideas
Surely, you all are done with your Christmas shopping, right? No? I was standing in the kitchen today and looking around at a few objects and thinking, "These are among some of the most treasured and enjoyable gifts we've received." Curious?
Here you go…you still have time if you overnight with Amazon!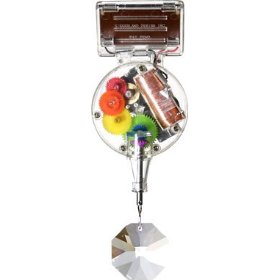 This is the solar powered rainbow maker. Have I gushed about this before? Surely I have! You all know how I feel about a kitchen drenched in rainbows on a wintry day! There's nothing more enchanting. The great thing about this rainbow maker is the little solar cell that powers the gears which turn the prism which means you have dancing rainbows all throughout your room. Hang it in any window that gets sun – it will surely cheer your wintry spaces!
This is a great book! String games comes with 3 lengths of strings which are quite delightfully durable and instructions for a variety of string shapes. Of the great string shapes you will find, Cats cradle and Jacobs ladder are among them. In addition, there are some exciting new string shapes to learn! This is great for the car or for rainy days! We've enjoyed this book and its accompanying strings for years now through multiple children, so it's definitely worth a mention!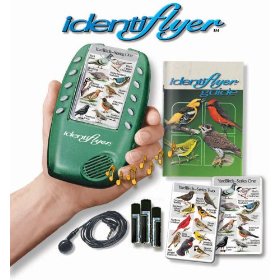 The Bird Identiflyer is one of our favorite birding tools! We received this gift last year, in addition to several extra cards and it has become one of a few staples on the bird shelf! We have learned so much from it in such a short time. For example, we have identified the sharp shinned hawk, not by sight, but by learning it's unique call as we hear it in the wooded tree line behind our house. It is an exciting learning tool for any birder and aspiring naturalist!

How about a collection of Dover coloring books? These are just the most thrilling and wonderfully delicious coloring books we have ever encountered! Crisp images, historically and botanically correct, and heavy paper (as opposed to flimsy, gray-ish newsprint) all characterize these affordable coloring books. Every subject imaginable is portrayed and offered. You will find suitable offerings for every age and interest! Truly, these will be a delight if found under the tree!

No last minute list, nor any childhood list, would be complete without the addition of playsilks! We've enjoyed hours and hours of play with ours. No need to worry about small parts, or any parts, simply enjoy the simplicity of a colorful square of silk and the endless possiblities ones imagination can employ! If I had posted this with more time, I would have recommended instead the purchase of more inexpensive silks from Thai silks and a most doable tutorial done by a dear friend on dyeing silks at home. Still…if you're scrambling…a couple of the pre-dyed Sarah's Silks could be just the thing!
Well, even if you've already prepared for the upcoming gift-giving festivities and have wrapped tidy packages which are carefully hidden away, I had fun offering you a glimpse at some of our most enjoyed gifts of the past! I hope you're enjoying the gathering and creativity surrounding the traditions of gift-giving in your families!