RE-POST :: Clip-on Book Supports
I've had a number of requests for the information I posted (buried in a Daybook post — sorry!) on these amazing
clip on book supports
so I thought I'd just repost the information in a post all it's own so it can be searched and found more easily!  Hope this helps!
I TOTALLY organized all of our liturgical reading and put those on shelves in our learning room — labeled 🙂 by month. I've made small labels for their spines which denote a particular century or setting for the book, but I haven't yet affixed them.  This will be helpful because the older children read these coordinated with history studies as well.  I can't tell you how ridiculously FABULOUS this liturgical literature organization is!!! And the
clip on book supports
I ordered to help me with this project are so fantastic! I must order more when the budget allows!
Pros
— clip on, enough room for a label, easily repositionable, visually pleasing, if you're organizing a collection of books and only want to remove one small group from the collection at a time to place in a book basket, the book supports continue to hold the remaining books in place. LOVE THIS!
Cons
— they do take up valuable shelf real estate! Each shelf clip is 1 1/2 inches wide. You'll have to decide if it's worth it to lose that much shelf space. It's a definite con when shelf space is at a premium, but for this book grouping it was worth it for me. I will probably only use a few more on my shelves, but with a lot less frequency.
Hope this re-post was a help!  I wanted to add that I found an idea in The Family Handyman magazine just this weekend that addressed this same issue – a standing, slide-over the shelf book support that you could DIY out of wood.  It was definitely added to my future project list!  I wish I could find the project online, but alas, I can't.  It was in the most recent issue of the magazine (which I saw at my Mom's house).  She picked up her copy at Lowe's, and I hope to grab a copy for myself this week, so if I find out more specifics on the issue I'll come back and link!
Have a great Monday everyone!
Edited to add more information about The Family Handyman magazine:
I did indeed find a copy of this magazine at my local Lowe's Hardware store.  I took a couple of pictures for you so you can see the cover of the magazine (which has some great ideas in it, by the way!!!), as well as a picture of the small blurb about the sliding wooden bookend.  The magazine will be on the stands through 3/28/2011.  Hope this helps everyone!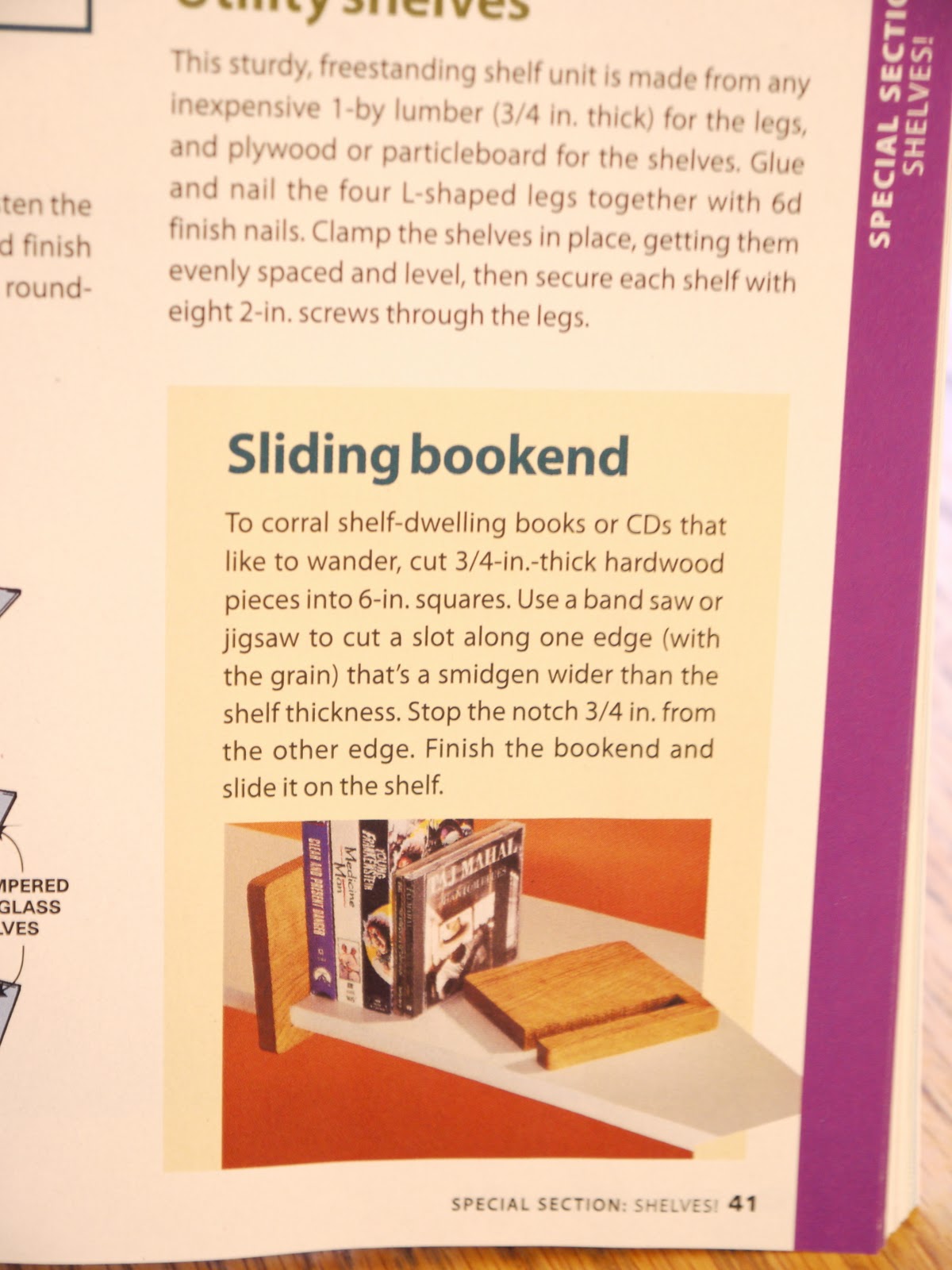 I wanted to add one observation about the sliding wooden bookend pictured.  I think it could hold a lighter collection of paperbacks or even a collection of CD's, but unless you substantially increased the width and height, I don't think it would adequately support taller, weightier books.  In thinking about this bookend, I can see how the slight tension afforded by the plastic arm that clips underneath the shelf is really quite helpful in keeping books stable and upright…even with a long line of books.  I took a few more pictures to illustrate this:
Alright…I'm done going on and on about plastic clip-on bookshelf supports!!  LOL!  I sure hope this was helpful!