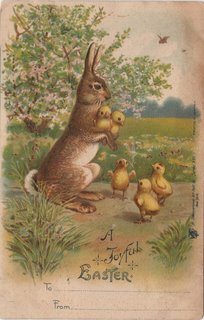 For today… Monday, April 13, 2009
Outside my window… a cloudy morning, but I hope it will clear later. We had mighty storms all night, and I thought perhaps the wind would blow us right off the top of this hill…but here we are safe and sound this morning. The pansies are all perky on the front porch, and everything seems to have weathered the storms fine. Except the birdfood. All the birdfood definitely blew away…no doubt it is all waiting to germinate as weeds in my garden now…I need to get the kids out to feed the birds!
I am thankful for… urgent care clinics that are open on Easter Sunday. Poor Peanut squished his thumb in the door of the van right after Mass and has a hairline fracture. 🙁 He seems fine now though. They didn't have a finger splint small enough for him, so his little thumb is wrapped in a fat gauze package to keep it from moving.
From the kitchen… Leftover ham tonight…yum! And….THE COFFEE POT IS HAPPY AGAIN, SINGING AWAY TO ME. Ah, the glorious smell of caffeinated nectar from the heavens this morning. Can you tell I missed my coffee?
I am wearing… a coral pink 8 gore skirt, a white 3 quarter sleeve shirt with coral flowers on it (and tiny wooden beads sewn on it that Doodlebug is convinced belong to her), and my tan Dansko Mary Janes. Hair, as always lately, is up in a clip…I really need to find something else to do with my hair.
I am reading… The Anne of Green Gables series. 🙂
I am hearing… the birds sing right outside the window. They're always so happy after the rain. And, I can hear Peanut and Sparkly playing happily upstairs with their new trucks they got for Easter. Peanut is making the cutest siren sound right now. All else is silent in the house right now…the girls are still asleep.
Looking to the rhythm of the liturgical year… well, we have some exciting Easter crafts I'd like to work on this week while we have no academic obligations. And, I have some lovely picture books set out for us this week.
In our learning spaces… you'd find a bit of a mess. I'm pulling books out for next year off the shelves and new books are still arriving. There are baskets of books all over the room. I need to do a bit of spring tidying this week, putting some things away, refreshing Peanut's basket of picture books, displaying some of our craft work, and refreshing the April nature table. There are so many lovely things to display this time of year. I confess I'm excited about having the week to flit about in the learning room – reading and rearranging and setting out pretty papers and lovely books and inspiring artwork. I'll have to show you the pretty file folders I found – they really dress up the mundane!
Around the house… well, I accomplished almost everything on my Lenten cleaning list. But, my fridge still needs a good cleaning!!! I hope to take it on after we eat all the leftovers in there. It's nice that the home is tidy right now, but there's always the laundry…and I really do need to do some spring cleaning in the learning room.
A few plans for the rest of the week… it's a busy week with baseball every evening, but our days are ours. I hope to make the most of our Easter week off and enjoy some relaxing time reading together, taking nature walks (all the dogwoods are abloom here and it is just lovely!), drawing with sidewalk chalk all over our driveway, maybe a bit of weeding in the gardens…and, did I mention…drinking coffee!
Here is a picture thought I am sharing…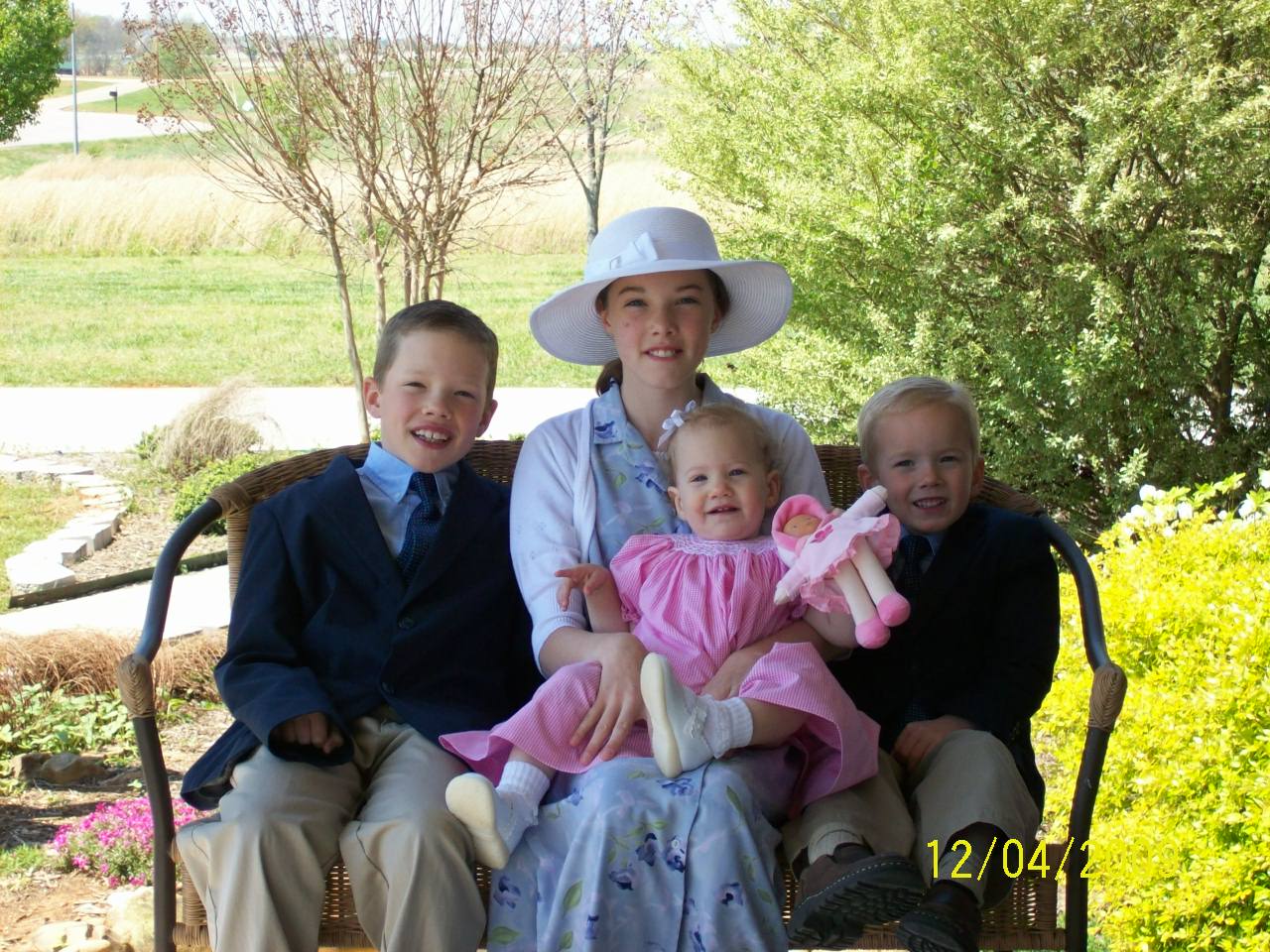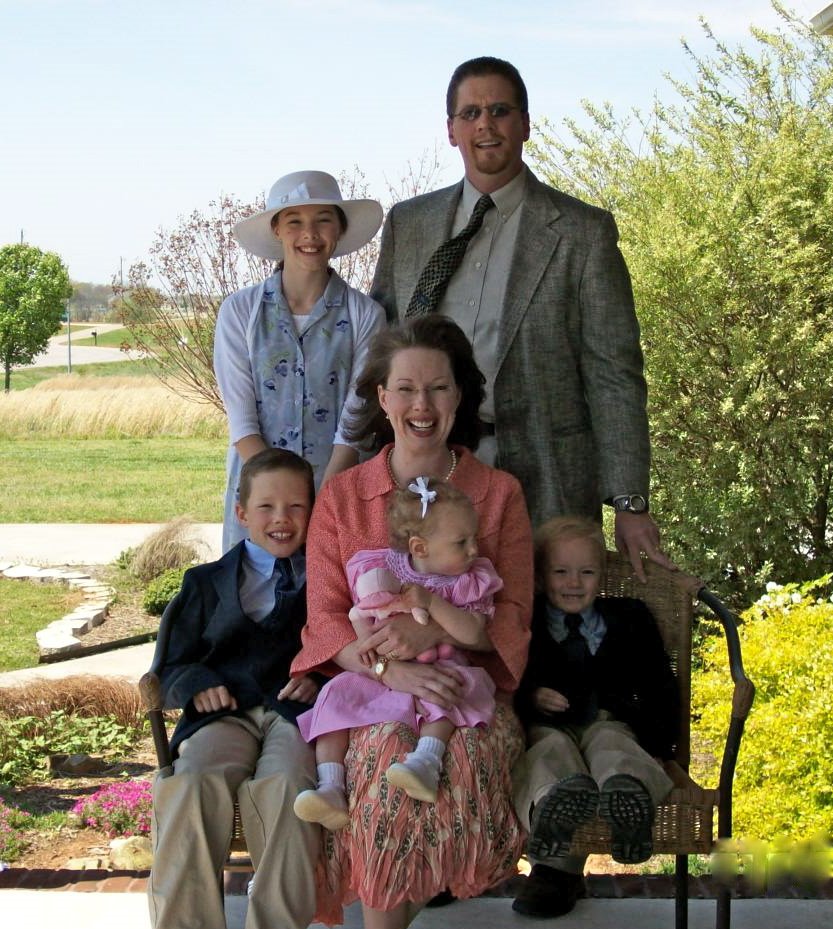 A quick word about our pictures…Rob set up a lovely background for us, don't you think? With the front gardens and pond as our backdrop. We are actually sitting on our front porch. My hair is actually not quite that fluffy! lol! It's always windy up here on our little hill and yesterday was no exception. Fortunately it was blowing in our faces. I should have worn a hat like my stylish daughter! The picture of just the kids came out nicely though, don't you think? But, I always relish when I can see your face on your blog, so I thought I'd throw my windblown face up here. My expression is one of complete amusement as I laugh at my husband run like a mad man to stand behind me after he sets the timer on the camera…and I'm trying to convince Doodlebug that there is a kitty in the area so she'll look forward. No joy there. If the light is a little off it's because I digitally adjusted some of the shadows – before I adjusted you couldn't see the Peanut at all. He was hopelessly lost in the shadows. Anyhoo…
Easter Blessings to all of you!
Visit Peggy at The Simple Woman for more Daybook entries. 🙂