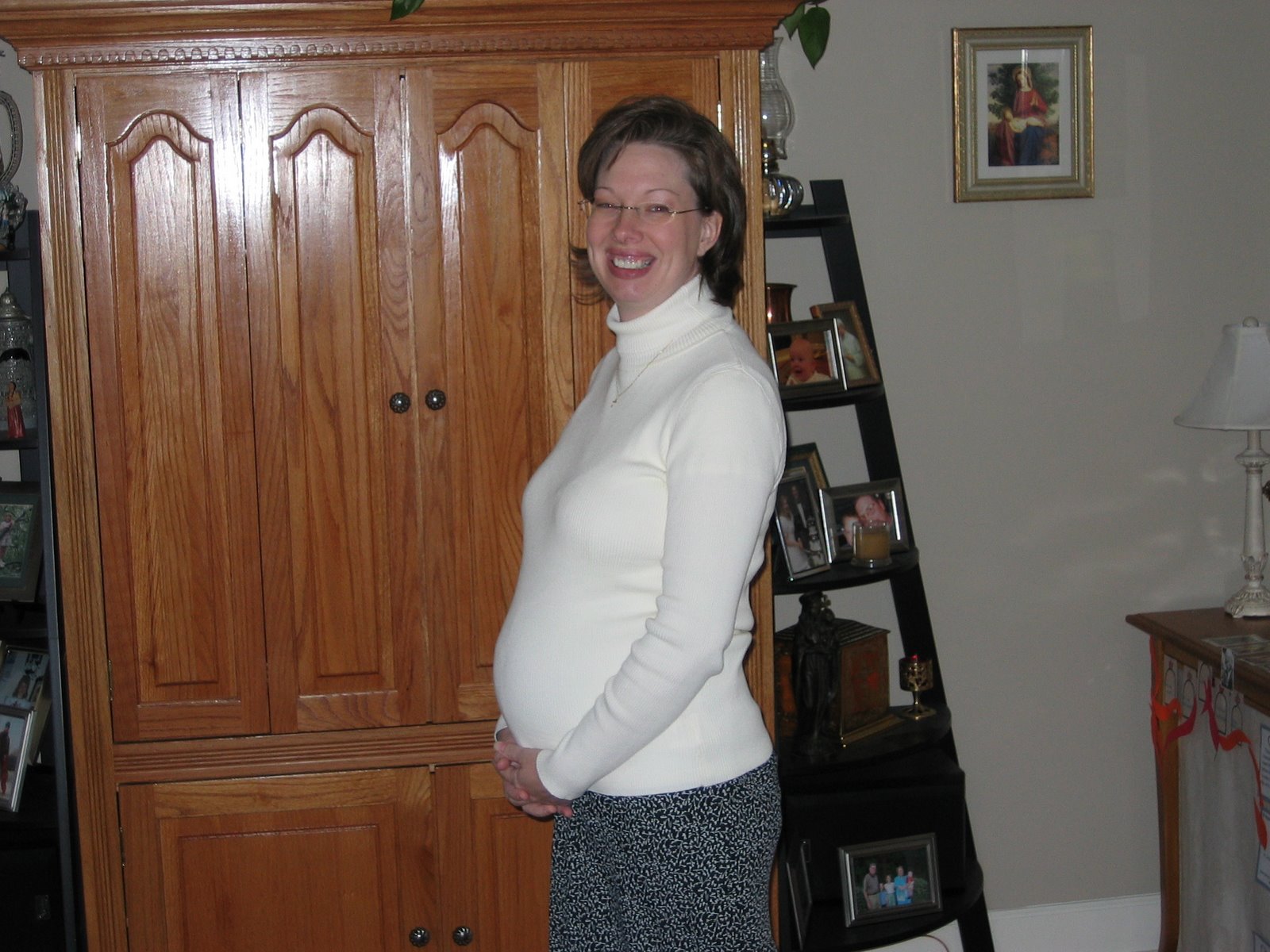 My family has been begging for a side shot of…well…my belly. So here I am. At 22 weeks now, the belly is certainly getting out there, though not as much as in other pregnancies. I feel smaller than when I carried Sparkly and Peanut. I have standard pregnancy complaints, nothing major. I live with functional nausea, my sciatic nerve is starting to act up, and my energy level varies. See. Nothing spectacular there. But…I do feel the nesting urge beginning. Just last week I made my husband remove all of the dusty globes covering our bathroom light fixtures so that I could wash them in the utility sink. This week, I feel like re-arranging the living room. Another joyful project involving my husband. Hmmmm…no wonder he grumbled this morning when he observed "ugh, you're nesting."
I had an ultrasound, and though we couldn't get a definitive look, we did see fairly clearly what the baby was. Warning here – if you don't want to know if the baby is a boy or a girl DO NOT read any further.
Rob has always predicted our babies with great accuracy. We have been batting around a few names, but weren't able to land on anything specific. Rob always names the babies after our ultrasounds. Sweet Pea was a complete surprise, but after the loss of Matthew, we really wanted to get to know as much as possible who that little person was in there having learned what a great gift every moment is with our children – even those precious times when I carry them. Rob has felt from the beginning that this was another boy. We seem to have that mold down now, with the last 3 having been boys. I wondered because I was carrying so small – with the boys I exploded. Well, the ultrasound indicated that….drum roll…It's a girl! Now mind you, it wasn't definitive, she didn't cooperate with that look-at-me-let-there-be-no-doubt between the legs shot. She did provide a number of other angles that showed pretty clearly that she was a she. The ultrasound tech said she was 80% sure it was a girl. I think we'll have a boy's name picked out just in case it's a surprise. Rob has named her Katherine Elizabeth – and the family wants to call her Katie! Everyone, especially Sweet Pea, is thrilled.
One last full size shot of me from the side for you Aunt Fran –