Claiming Technology: Novena App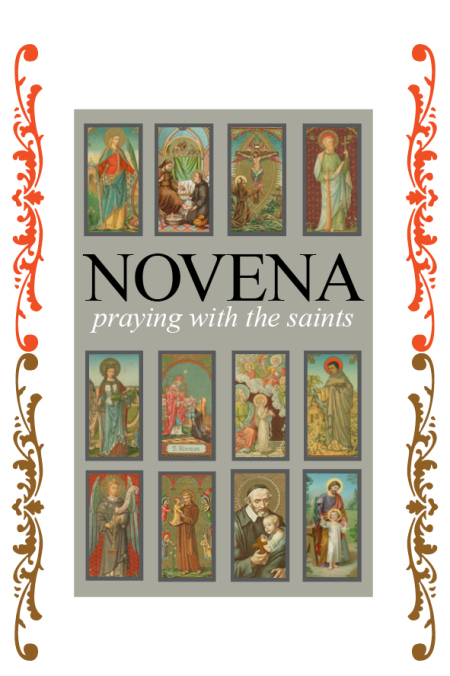 For the 40 days of Lent, Novena.com is offering a special .99 app titled simply, Novena.  (For the iphone) It's a beautiful app with traditional images from holy cards and it's a lovely way to use your smartphone to help you pray through Lent…and beyond.
The app allows you to search for novenas under various categories:
Health
Occupations
Situations
States of life
Angels
Evangelists
Holy People
Martyrs
Mystics
All Saints
Favorites (this is a section for you to add your favorite novena to!)
Then there is an amazingly detailed glossary that is linked and cross-referenced (by subject/intention/need) to the 36 saints on the app.  Each is linked to their unique and very strikingly beautiful holy card page.
Now, let me tell you about the amazing holy card page that each saint of this app has!  The page contains the following options, each of which are linked on the page:
Symbols – this is a link that opens a transparent window super-imposed over the holy card image and lists the symbol(s) and WHY that symbol is significant for that saint!
Novena associated with that saint
History of the saint
Feast date of the saint – this is possibly my favorite feature.  Click on the date (it's a hyperlink) and the app will ask you if you'd like to add that date to your phone calendar! (Note that the Feast linked is the Feast date on the New/Current Calendar, not the Traditional Calendar)
Share option – you can share via Facebook, Twitter, Email, or MMS
To Favorite a Holy Card or Novena, you toggle the beautiful image of the Sacred Heart found at the bottom-center of every Holy Card page.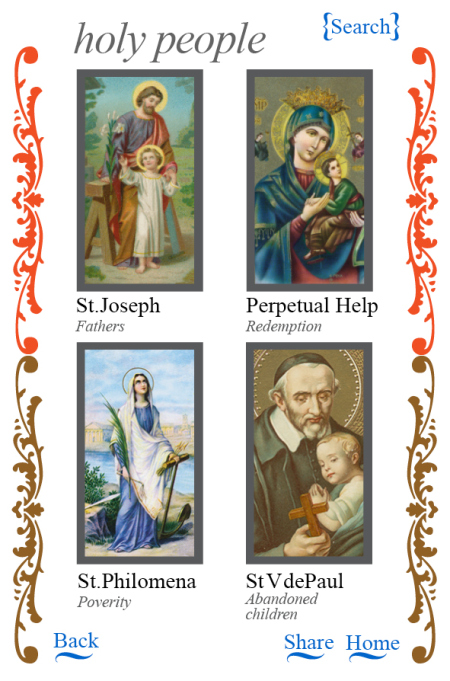 The art on each of the holy cards is simply stunning and truly an assistance in lifting the heart and mind! This is the list of the 36 saints included in the app:
Saint Agatha: Breast cancer
Saint Aloysius Gonzaga: AIDS sufferers
Saint Alphonse Liguoris: Arthritis sufferers
Saint Anthony of Padua: Lost Objects
Saint Blaise: Throat ailments
Saint Catherine of Alexandria: Philosophers
Saint Claire of Assisi: Television workers
Saint Dymphna: Mental illness
Mother Cabrini: Immigrants
Saint Francis of Assisi: Ecologists
Saint Gabriel, Archangel: Teachers
Saint Gerard Majella: Infertility
Infant of Prague: Desperation
Saints Joachim and Ann: Grandparents
Saint John of God: Heart ailments
Saint Joseph: Fathers
Saint Jude: Impossible causes
Saint Lucy: Blindness
Saint Martin de Porres: Racial harmony
Saint Michael, Archangel: Policemen
Mother of Sorrows: Grief
Saint Monica: Wayward children
Our Lady of Guadalupe: Motherly comfort
Our Lady of Perpetual Help: All causes
Saint Philomena: The poor
Padre Pio: Forgiveness
Saint Peregrine: Cancer
Saint Raphael, Archangel: Travelers
Saint Raymond Nonnatus: Newborns
Saint Rita of Cascia: Impossible causes
Sacred Heart of Jesus: Family peace
Saint Therese of Lisieux: To create a loving atmosphere
Saint Thomas Aquinas: Students
Saint Vincent de Paul: Abandoned children
Saint Vincent Ferrer: Builders
Here's the direct itunes link to the app.  Remember – it's only .99 during the 40 days of Lent!
A blessed Lent to you!