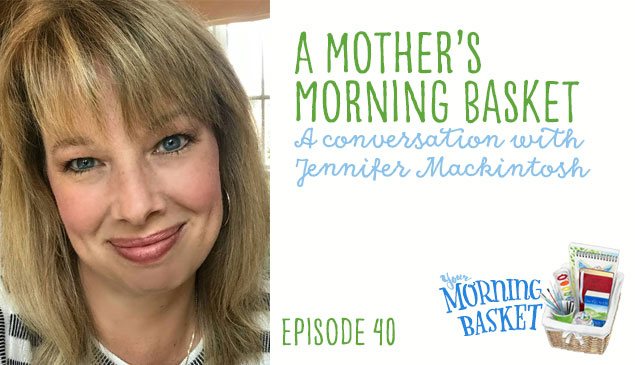 Hi friends!
I'm working on a blog post about my Simplified Planner: how it has been working for me since August, and….an exciting giveaway!! If you love the Simplified Planner, you're not going to want to miss that post! Watch for it later this week!
I wanted to pop in and let you know that I'm over at Pam's this morning, and we're chatting about the Mother's Morning Basket!
I've had a morning basket for myself for a long time – years! – but I have been calling it my "Mother's Morning Basket" after a dear friend I met after speaking at a conference (waving at you, Lu!) mentioned that she loved the Morning Basket idea so much she was going to set a Morning Basket up for herself. I thought, "Yes!" That's exactly what this reading basket of mine is – it's the anchor point for my own day! It's a place to gather books that nurture in truth, goodness, and beauty! We mothers can jump out of bed, hit the ground running and pour ourselves out beautifully in a sacrificial way for our families. Every day. But moms, you know that admonition that you have to put your own oxygen mask on before you help anyone else? Same idea! We can't give if our well is dry! Start your day with prayer, nurture your imagination, and fill your well with a Mother's Morning Basket of your very own!
You can read more about my own Mother's Morning Basket here. I regularly share pictures and books that I add to my Mother's Morning Basket on my Instagram account – follow along (you don't even have to create an account to do so)! I'd love to catch up with you there!
Let's grow this idea and encourage each other!
I'd absolutely love it if you shared your Mother's Morning Basket!! Post your pictures and inspiration on facebook or instagram and tag them #mothersmorningbasket – let's encourage each other in this worthwhile habit!
Pop on over to Pam's and listen to the podcast and let me know what you think!