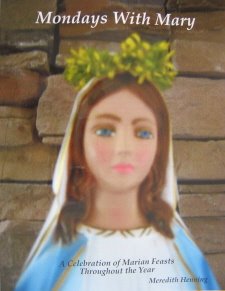 Meredith has been posting lovely Marian feast day craft posts at Sweetness and Light for some time now! I've long enjoyed visiting Meredith and finding inspiration in her gentle words and crafts that foster a great love of Our Lady. Her teatimes are the greatest!
Now, you can have it all in a great book to add to your liturgical year resources. What a lovely and gentle way to introduce our children to their heavenly mother and foster a love for her. Using Meredith's book we can place our children's hands in Mary's hands and let her take them to Jesus. As a mother, I want for nothing more.
Go get your copy of Mondays with Mary right now!
God bless you, Meredith! And thank you for sharing yourself with us in this way so that we may all find inspiration in your ideas to better foster a love of Our Blessed Mother Mary with our families!